Managed E-Commerce Website
The online shopping experience once reserved for major online retailers is now available for your business
List Products
Showcase your products with catalog filtering and search.
Accept Payments
Accept online payments from credit cards and local banks.
Process Orders
Fulfil placed orders and keep track of your inventory stock count.
E-Commerce Features Overview
Shopping Cart
Provide shoppers with the convenience of a fully integrated shopping cart and a secure checkout experience directly from your e-commerce site.
Flexible Taxes
Tax is the last thing you want to think about when opening a shop, but we've made it simple. You determine when and where to apply taxes.
Coupons & Discounts
Promotional offers can incentivize visitors to purchase with a limited-time offer, attract new buyers and generate repeat sales.
Shipping Options
Offer the shipping choices that shoppers want and easily handle a full spectrum of shipping situations ranging from simple to complex.
Order Management
Manage orders end-to-end with order confirmation emails, shipment tracking notifications, refunds and returns processing.
Inventory Tracking
Track your inventory to manage your supply, show customers the number of items remaining to create urgency and boost buying behaviour.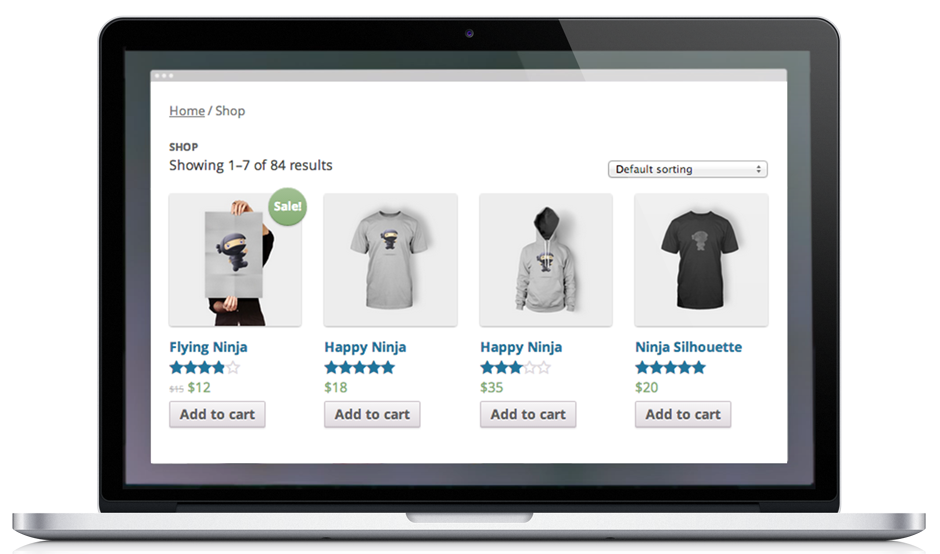 Our e-commerce website provides you a surprisingly easy way to sell products online. We arm you with modern e-commerce store designs and the powerful features you need to provide a consistent shopping experience that works across desktop, tablet and mobile devices.
Sell Anything on E-Commerce
Amazingly various things you can sell on your E-Commerce website.
Physical Products
The most common product type on E-Commerce websites: tangible physical items.
Virtual Products
Any other things that are not in physical form is considered as virtual product.
Downloadable Products
Give your customers access to download a file when they paid for it. Secure download links only works for your logged-in buyers.
Grouped Products
Curate a custom collection of products into a group to make it easy for your customers to buy in a single click. Each product inventory remains managed independently.
External Products
List products sold on other sites on your E-Commerce and link it using your own trackable links.
Related Products
Shows related products when your customer viewing a single product page. Customise the randomness to your liking.
Product Variations
Sell your same product in multiple sizes and colours using variations. Can also be used for any other product variant types.
Product Availability
Shows each of your product availability as ready stock, out of stock, or requires pre-ordering. Any other custom availability also supported.
Product Subscription
Instead of perpetual sales, sell your product or services as a subscription of certain amount of time such as monthly or yearly. Set it to auto-renew to keep them subscribed.
Product Reservation
Let your customers book specific placement, either physical location or time slot. Allow them to choose easily and reserve their placement once paid.
Product Addons
Sell higher value when you offer your customers the ability to add something more into a product. Some examples are custom engraving addon to a gift item, or, carrying bag of a gadget product.
Product Builder
The ultimate personalised product can be achieved through product builder that allows your customers to choose each components until it makes into a complete set.
Product Activations
Enforced activation process to your virtual or downloadable products to ensure it is only used legally by your verified customer.
Bundled Products
Combine several products into a bundle and sell it with it's own pricing, while retaining inventory management linked to the original SKU.
Licensed Products
Sell license keys or serial numbers as your products. Your customers received their license details immediately upon payment, from auto generation or fetched from a database.
Pre-order Products
Keep receiving orders for out-of-stock items by allowing them to be pre-ordered. Ask for partial deposit, or requires a full amount paid up-front.
Open Pricing Products
Let your customers decide what amount to pay for your products / services. Optionally set a minimum or maximum price. Or manually approve each proposed price.
Members-only Products
Restrict some products to your customers on selected memberships only. Or set a custom product price / discount for each membership levels.
E-Commerce Shipping & Handling
Comprehensive delivery strategy for your E-Commerce website
Flat Rate Shipping
Define fixed price of shipping fee per zones.
Min Spend Free Shipping
Give your customers a free shipping when they spend a certain minimum amount.
Shipping Discount Coupons
Issue a special coupon codes that make your customer's orders free or discounted shipping fee. May combine it with minimum spend too.
Shipping Zones
Specify multiple zones for shipping addresses based on country, region state, or postal codes. Used in combination with other rules.
Self Pickup w/o Fees
Give your customer the option to drop by and pick up their items. Make it free or charge lower fee than delivery. Require them to set a date, or show them your pickup hours.
Volumetric Shipping Calculator
When your have package dimensions saved into your products, you can calculate the volumetric weight and charge certain range of delivery fee.
Quantity Shipping Fee
Charge shipping fee for each item purchased by your customer. May also use range of quantities and/or set a minimum or maximum fee.
Boxed Shipping Fee
Shipping fee is calculated based on how many boxes needed for your customer's order. Product dimension determined how many items goes into each box sizes.
AWB Integration
Automatically generate Air-Way Bill (AWB) or shipping printout when integrated with your delivery partner's fulfillment portal. Customers get updated when their packaged shipped out.

Accepting Payments on E-Commerce Website
Various payment methods available to your customers
Cards (Credit / Debit)
Accept most credit and debit cards usually from Visa and Mastercard, both local and international issued cards.
Cross-border Payments
Local payment methods in your country, such as: FPS, PayNow, Viettel Pay, DuitNow, InstaPay, Prompt Pay, UPI, GoJek, PayID, Toss
FPX Internet Banking
All consumer and commercial banks such as Maybank2U, CIMB Clicks & RHBConnect, etc.
Malaysia eWallet
GrabPay, Touch N Go eWallet, Boost, Kiplepay, ShopeePay
Buy Now Pay Later
Offer multi-term payments to your customers while getting paid in full upon received order.
PayPal
Let your customers pay you using their PayPal accounts.
Cash on Delivery (COD)
Allow customers paid cash upon receiving their items. No cash handling as your delivery partner will do the collection.
E-Commerce Checkout Experience
Customer friendly, intuitive and usable UI
Guest Checkout
Don't require user account registration and let your customers to quickly purchase once.
Register / Login @ Checkout
Make it easy for existing customer to login at checkout page. Or automatically register new customer when they place their first order.
Custom Checkout Form
Customise what input you want at checkout from your customers about their order, billing or shipping details.
Accept Terms / Agreement
Prompt your customer to read and agree to your terms or sale policies before allowing them to click the submit order.
First Order Discount
Secure new customer better by offering them a one-time special discount for their first order.
Discount Coupons
Customers can apply your special discounts by using unique voucher codes that you shared to them.
Checkout Fees
Charge an additional fee at the checkout page for anything you could think of. Either fixed fee, quantity based or product based calculation of the added fee.
Wholesale Pricing
Give your customer the reason to buy more when price goes lower if they buy in bulk. Set a wholesale range and limits to your liking.
Min/Max Quantities
Set a minimum or maximum quantities allowed per order, or even per product.
Minimum Amount
Enforce your customers to order a minimum amount before they able to checkout. And set it to vary based on payment methods too.
Credit Term Purchase
Pay by credits allow your customers to quickly place order now and deal with payments later.
E-Store Digital Wallet
Your own online store's digital wallet. Customers can topup their balance and pay orders from their wallet funds.
E-Commerce Order Management
Streamlined fulfillment process
Order Dashboard
The central page for your customers
Order Status
Show the progress of your orders
Order Receipt
Give your customers a copy of the order details
Order Notes
Exchange internal notes between shop managers about an order
Order Notifications
Notify your customers about their orders
Order History
Historical records about any particular order
Order Again
Make it easy for your customers to buy the same items again
Order Cancellation
Allow your customers to cancel their order, automatically or by request.
Order Approvals
Moderate orders when some items or customers may need to be manually approved.
Order Tracking
Provide detailed order tracking information with data from your delivery partners.
Order Invoice
Generate printable PDF invoices for your orders
Order Dispute
Handle return, exchange and refund when any orders have a dispute raised by your customer
E-Commerce Analytics & Reporting
Streamlined fulfillment process
Analytics Dashboard
Overview of all charts and graphs for your E-Commerce's sales performance
Sales Performance
Track total and net sales of your E-Commerce website
Traffic Performance
See which products, categories or web pages gets the most views
Compare Date Range
Compare data of current date range to the previous range
Products Sold
Shows which products sold the most, per order, or in ttotal
Inventory Stats
Monitor out-of-stock items and which product gets quickly run out
Coupons Redeems
Monitor which promotion gets the most redemptions